It's week two of my boot camp and I just had my first Wednesday Weigh-in. I have lost .4 lbs. You read that right, not even half a freakin pound. Everything hurts and I'm exhausted. I am so frustrated.
Some of you may be asking: "week 2? Where is week 1? I had no idea you were doing boot camp. WHY DO YOU NOT TELL US THESE THINGS?"
Well…week 1 was a complete and utter disaster and I did not think it deserved an update or a blog post. Until today when I got on the damn scale and it said point freakin 4.  Screw you scale.
I admit, you will need some back story here to understand my frustration so here is my recap of week 1 .
Things you should know:
A. I hate working out when I am not in shape. Your probably saying, "Duh!, who does?".   Well believe it or not there are some freaks, I mean people, that do and you can find them up and awake at 5:30AM at Herman Park every day of the week.
B. I went through two surgeries since the last time I did any intense cardio training. So this time around I am missing an organ.  AN ENTIRE ORGAN.  I am attempting to run my body around without a full set of organs.  Ok it was only my gallbladder, but still some people are working with a full set and I see this as a major advantage.  The other surgery happened two years ago this week and as a result I have pins in my right foot.  (minor details)
C. I don't like mornings
D. I don't like breakfast food during breakfast hours
E. I have never been the "athlete" in my family, that's my sister, I was always the "artsy one" of the two of us, actually she was pretty "artsy" too.  I could do math.  She, still to this day, cannot.
F. I'm getting older…notice I didn't say old…just older…Uggg!!
G. I'm a perfectionist and I hate doing things that I am not good at on the first try (this is key)
All that being said, I signed up for this boot camp a week after my 29th birthday, giving myself two weeks to mentally prepare for the hell I was about to put my body through. This was probably a mistake. Thinking about it for two weeks did not help me in any way.
The night before my first class, the anxiety started and I put out on Facebook that I was making one of these grand "life changes for the better". It was all very cryptic, in fact many thought I was leaving my job or moving to NYC and approached me the next day at the office in a panic. I'm not going anywhere people! Fret not!
July 1st, I woke at 4:45 AM after a very restless night's sleep because, yes, the anticipation of working out with a group of people and me suckingcauses me severe anxiety(see G). But I already knew it was going to suck, so go ahead and multiply that anxiety by two.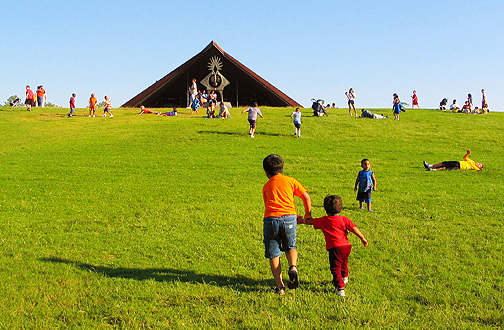 Don't let the fun being had in this picture fool you. This hill is a beast.
I showed up to the park, in the dark,and found a bouncy cheerful trainer setting up cones to music blasting from a stereo parked at the bottom of
an enormous hill. I stared up The Hill. That damn hill.  What the hell had I got myself into?
To sum it up, I threw up(4 times), all on the first day. First time I was discreet and went behind a tree. 2-4 happened on The Hill in front of everyone else in my class.  After week 1, I thought I was dying. My body felt drained and empty. I was a walking/limping zombie at work and had to keep myself caffeinated just to make it through my daily conference calls.
Needless to say, week 1 was a disaster for me. The only thing I can say is that I got out of bed, showed up to camp and I tried, which I guess counts for something.
Week 2 has been better than week 1 in the fact that I have not thrown up. Though, I have come awfully close. I have done more burpees and lunges this week than I have done in my entire life. I have pushed my body to do things I swore I could/would never do because those movements were only meant for athletes, not "mathletes".   But, I keep showing up, and again, that has to count for something.
Till my next Wednesday Weigh-in,
Hug and Loves
Jess
{ 0 comments }